What to Do After a Car Accident in D.C.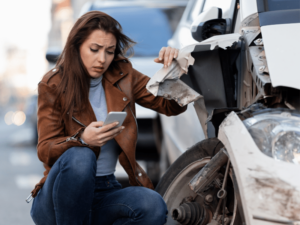 Nothing ever can prepare you for the shock of a car accident. Knowing what to do in the aftermath of a crash can be difficult, especially if you're disoriented and injured. But taking the right actions after a collision can protect your legal rights and any future injury claims you may need to file. Follow these tips from the car accident lawyers at Trollinger Law LLC.
Remain at the Scene
Under § 50–2201.05c of the District of Columbia's legal code, you must stop and remain at the scene of a car accident to render reasonable aid and exchange information as necessary. If you can, pull your vehicle over to a secure location on the side of the road and turn on your hazard lights immediately after any collision.
Check for Injuries
Check everyone involved in the crash for injuries. If anyone seems seriously injured or incapacitated, call 911 for emergency assistance.
Call 911
If anyone was injured or killed as a result of the accident, you must call 911 and remain at the scene until law enforcement arrives. However, be careful about what you say to the emergency operator and the police. Anything you say could be used against you later, so keep your statements truthful and brief.
Collect Information
If you can, identify the other driver(s) involved in the crash and exchange information with them, including:
Names
Addresses
Contact details
Vehicle makes and models
License plate numbers
Driver's license numbers
Insurance company names
Insurance policy numbers
Seek Medical Attention
Seek medical attention as soon as possible, even if you just feel discomfort or "off" from normal. Not only will this ensure you get the care you need, but it will also establish a report of your condition in your medical records. This component will be an important part of your car accident claim.
Follow Your Doctor's Care Plan
Attend all follow-up medical appointments and follow all treatment plans exactly. This is the best way to maximize your physical recovery and demonstrate to insurance companies and other investigators that you take your health seriously.
Keep Track of Your Expenses
Keep a record of your medical bills, vehicle repair estimates, and other accident-related receipts or invoices. Providing formal documentation can help you demonstrate precisely how much the accident cost you and support your claim for maximum compensation.
Contact a D.C. Car Accident Lawyer
Don't count on the insurance company to give you a fair settlement offer from the beginning. Adjusters always make initial offers that are far lower than the true value of a claim. An experienced Washington, D.C. car accident lawyer can provide dependable advice and take over all negotiations with the insurance company for you.
How Trollinger Law LLC Can Help You
At Trollinger Law LLC, our trusted attorneys can determine whether you are entitled to compensation in a free consultation. Call or contact us today to speak with a proven Washington, D.C. car accident attorney.