Recent News from Trollinger Law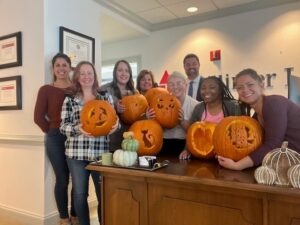 Our team would like to share with you some of the great things happening in and around Trollinger Law over the past several weeks.
First, Elli Schank passed the bar and will be joining Matt Trollinger as an attorney in the firm!
Our team members over the past few weeks have been given the opportunity to host our third annual First Responders' Night hosted at the Blue Crab's Stadium on September 3, 2022. It was a huge success thanks to all the first responders and their families who were able to come out. A special thank you goes out to our 2022 Hometown hero winners, Sean McKeever, Jason Adams, and Jennifer Johnson who were honored as our special guests of the evening for all their humble and consistent commitments they offer to our community.
In addition to our Hometown Hero event, Trollinger law has had opportunities to both sponsor and attend some local events including, the Torch Run for Special Olympics, the Lobster Fest hosted at the Charles County fairgrounds and Bounty of the County.
Lastly, this past week our team took a little bit of time to participate in a team-building activity in which we incorporated carving pumpkins! Our team works so closely together ensuring we provide the best experience for our clients and by bonding through team building it gives us the chance to get to know each other a little better and strengthens the working relationships among us.
Check out the images of the events below, and don't hesitate to contact us if you need legal assistance.