Turning Over Medical Records in Workers' Comp Cases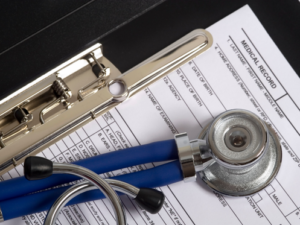 Medical records are an essential component of every workers' compensation case. However, questions often arise about the types of medical records employers and insurers have the right to request when processing a claim. You do not want your employer or their insurance company to have access to your entire medical history, and you might worry that releasing too much information could impact your workers' comp case. Knowing when you have to comply with a records request and what information you have to provide is crucial to protecting your privacy.
The legal team at Trollinger Law LLC helps injured workers in Maryland navigate the workers' comp process and obtain the money and benefits they need to heal and return to work. If you have questions about the kinds of records you must turn over to the insurance company, call or contact us today for a free consultation with a Maryland workers' compensation lawyer.   
What is a Medical Records Release Form?
A medical records release form is a document giving someone else permission to see your medical records. It is standard for employers or insurance companies to send a medical records release form after you submit a workers' comp claim. Your employer wants to know that you suffered a valid injury, while the insurance company wants to watch for potential fraud.
The problem with medical records release forms is that if you are not careful, you could give too much information to your employer or an insurer. Sharing too much of your medical history could lead to personal embarrassment and may affect the outcome of your workers' comp claim. Accordingly, you only want to provide your employer or an insurance company with the necessary records to evaluate your claim.
Is it Necessary to Release My Medical Records to Get Workers' Comp?
No insurer will approve a workers' comp claim without seeing some of your medical records. They need to know about the injury and have proof that it is work-related before they will pay for your injuries.
You will also likely have to release your records as part of an insurance company's independent medical examination. The insurance company can better evaluate your claim by comparing your doctor's records with the independent examiner's. Without your existing medical records for comparison, the insurer will unlikely approve any compensation for your injuries.
Can My Employer Request My Entire Medical History?
Your employer can ask for your complete medical history, but you do not have to comply. In fact, you do not have to give your employer any medical records that are not relevant to your workers' comp claim. Talk to a workers' comp lawyer before agreeing to release your medical records to protect your privacy and give yourself the best chance of winning your workers' comp claim.
Get Help from Our Workers' Compensation Attorney Today
A knowledgeable workers' compensation attorney from Trollinger Law LLC can protect your privacy and help you pursue the benefits you deserve after a workplace accident in Maryland. Our full-service law firm can meet you wherever you are in the workers' comp process. We can help with the initial application, handle any disputes with the insurance company, or file an appeal if necessary. Before handing over any records, call us or contact us today for a free consultation.